In search of easy valentines day crafts for seniors? Then you're just in the right place!
I've shared some of my 15 favorite Valentine's craft ideas that are not only simple to do but are also budget-friendly.
No matter how old your senior is, they will love putting together these fun Valentine's Day crafts to celebrate the season of love.
Well, hop on the love train, and let's get crafty.
Check: Easy Christmas Crafts for Seniors
15 Amazing and Easy Valentine Crafts For Seniors
From simple heartstrings to quilled photo frames, your seniors will love making these for their favorite grandchildren!
1. Yarn Wrapped Cardboard Hearts
A nifty heart-shaped decor made from simple materials: a ball of yarn and cardboard.
These are very easy to make but very pretty to look at.
It conveys all the love you need to bring out on the day of hearts.
Also Check: St Patrick's Day Crafts for Seniors
2. Valentine's Day Salt Dough Conversation Hearts
This makes use of 4 easy-to-get ingredients from your pantry: salt, flour, water, and oil.
Mix in a bit of food coloring, and you can come up with colorful hearts that can make for good conversation pieces as well.
3. Newspaper Heart Garland for Valentine's Day
Upcycle those old newspapers [1] and paint them red.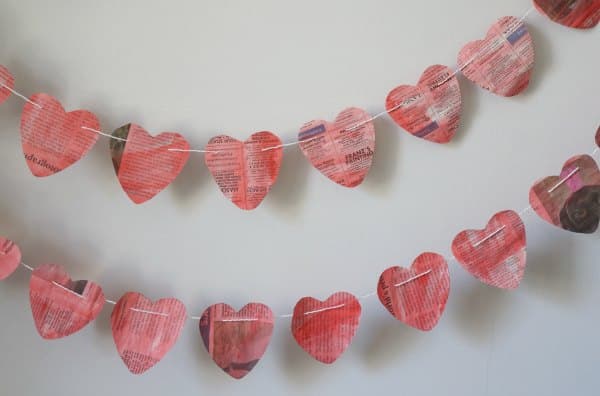 Cut them into heart shapes and string them on a piece of yarn, and voila! You have awesome decors to use for Valentine's day!
4. Quilled Paper Valentine Heart Balloon Card
Cutting and rolling stock cards to form 3D hearts look great as accents for those Valentine cards for your loved ones on the 14th. [2]
4. Penguin Valentine Craft
Children will love these penguins with hearts, all made from colored paper or cardboard. [3]
They're fun and easy to make and perfect to give out on Valentine's day too!
Check other amazing craft ideas for seniors!
A lovely picture frame surrounded with colorful quilled paper valentine hearts for your favorite Valentine memory.
6. Paper Quilling Valentine's Card
Paper quilling is a craft that is a no-fail. It's easy to make using effortless cardboard paper. [4]
They make great accents for cards and other decors that add a touch of home on a special day like Valentine's day.
See how it's done in this tutorial:
7. Cardboard Heart String Art
String wrapped around cardboard hearts in different directions adds a rustic touch to Valentine's Day heart decor.
8. Build a Graham Cracker Love Shack
Christmas may own the gingerbread houses, but Valentine's has the graham cracker love shacks! [5]
Shape those crackers into tiny little shacks and top them with your favorite pink and red candies and icing.
9. Painted Heart Worry Stones
Paint colorful hearts on plain stones and add a message at the back for a more personal touch.
Let your loved ones know that you are always thinking of them, especially on a day meant for love.
10. Cupid's Quiver & Arrow Valentine's Craft
Play Cupid using used paper towel rolls and paper straws.
Turn them into arrows and start targeting those hearts!
11. Easy Stuffed Felt Heart Bag Tag Craft
Cut out some felt hearts, sew them together, and stuff them.
They are great for hanging as Valentine decors, and they even make for great bag tags even after Valentine's day!
12. DIY Paper Heart Pick
Bamboo skewers, glue, cardboard, and crepe or tissue paper are all you need to get creative with these paper heart picks.
They make great-looking paper flower bouquets that you can use as centerpieces for Valentine's Day!
13. How to Make Simple Paper Heart Flowers
These paper heart flowers are made from paper straws and scrapbook paper of different colors and designs; these paper heart flowers make for a cute and cool Valentine's day craft project.
14. How to Make Heart Paper Flowers
Different colors of card stock paper shaped like hearts and glued onto bamboo skewers make for beautiful paper bouquets that you can use even when it's not Valentine's day!
15. Quilled Paper Valentine Heart Balloon Card
Cutting and rolling stock cards to form 3D hearts look great as accents for those Valentine cards for your loved ones on the 14th.
To Wrap it All Up
Valentine's day is about expressing your love to those you hold dear.
A fun crafts day for the people they cherish is best to spruce up the day for your favorite seniors.
Love knows no age, and the seniors will cherish making these simple crafts to show those who they love just how much they mean to them.
Resources
1. USI Web Services. Paper Recycling Facts – University of Southern Indiana [Internet]. Usi.edu. Available from: https://www.usi.edu/recycle/paper-recycling-facts/
2. Quilled Paper Valentine Heart Balloon Card [Internet]. 2019 [cited 2022 Jan 3]. Available from: https://artsycraftsymom.com/quilled-paper-valentine-heart-balloon-card/
3. Sam A. Penguin Valentine Craft For Kids [Free Template] [Internet]. Simple Everyday Mom. 2021 [cited 2022 Jan 3]. Available from: https://www.simpleeverydaymom.com/penguin-valentine-craft/
4. Valentine's Cards: Paper Quilling for Kids [Internet]. Red Ted Art – Make crafting with kids easy & fun. 2014 [cited 2022 Jan 3]. Available from: https://www.redtedart.com/valentines-cards-kids-paper-quilling
5. Build a Graham Cracker Love Shack [Internet]. Kitchen Counter Chronicles. 2019 [cited 2022 Jan 3]. Available from: https://www.kitchencounterchronicle.com/build-graham-cracker-love-shack/
What are your favorite easy Valentine crafts for seniors? Let us know in the comments below!
Lilian Wamaitha is a passionate writer and avid cyclist with over 4 years of experience in blogging. As a lifelong learner, she is driven by her curiosity to discover and learn new things. This curiosity and passion eventually sparked a love for the senior writing niche. She has written countless articles to help seniors find their footing in this world through healthy and holistic living. She's passionate about seeing the seniors in society live a more fulfilling life to the end. Follow her on LINKEDIN.
Read her LATEST POSTS. Learn more about her HERE.