Are you having trouble finding the best Parkinson's spoons?
Using the right spoon makes all the difference for Parkinson's patients, just like the right walking aid for seniors.
Fortunately, we've got your back with our amazing buying guide on Parkinson's spoons!
Check our quick list and comparison table for a quick guide. Read the review for further details.
CHECK MORE: Gifts for People With Parkinsons
Best Parkinson Spoon Top Picks at a Glance
FYI, this post contains affiliate links. We earn a commission if you make a purchase.
Top Benefit
Reduces shaking up to 70%
Top Benefit
Reduces shaking up to 70%
Best Parkinson's Spoons: Top 3 Choice for Every Budget
The Best Parkinson's Spoons in 2021 with Reviews
At first glance, Parkinson's spoons might not very different than ordinary utensils. However, these stabilizing spoons are usually wider and heavier than normal kitchen utensils.
It's normal for these spoons to feel "strange" when you grasp them for the first time. It's going to take a little bit of time for you to get used to their shape and weight.
As such, try using these spoons for at least a few weeks before you decide that they're not the right fit for you.
Gyenno spoon has several excellent qualities that earn it a place on our list of the best Parkinson's spoons.
For starters, it decreases up to 85% of unwanted tremors, while its high-speed control system provides fast stabilization when you need it.
Moreover, the spoon's sensors automatically distinguish between unconscious movements and intentional ones.
Gyenno's product also switches on/off automatically, so you don't have to worry about turning it off after finishing eating. It also has a sleeping mode to reduce power consumption.
However, Gyenno's biggest advantage is that the device records your tremors and sends them to a cloud system that generates an algorithm to improve the spoon's performance.
The more you use the Gyenno's spoon, the better it will learn your habits and provide better stability while eating.
The spoon is also light and has an ergonomic handle made of medical-grade material to prevent slipping. It can handle hot liquids well-enough so that you don't have to worry about the spoon melting.
Moreover, this assistive device comes with a fork attachment with a rotation function, which is great if you like noodles and spaghetti.
Unlike ordinary spoons, Gyenno's device has a battery, which holds a charge for 180 minutes. It's enough for three meals a day and has a notification light so that you can check the battery status with ease.
However, the handle is big, and it takes time to get used to it. The Gyenno's spoon is also suitable only for people within the 7cm tremor range.
But it comes with a 6-month guarantee, and you can reach support if you have any questions.
| Benefits | Drawbacks |
| --- | --- |
| Medical-grade material, BPA-free | Not the cheapest options |
| Prevents slipping | Not suitable for all tremor ranges |
| 6-month guarantee | Chargeable only via USB connection |
| Adaptable to the tremors | |
GYENNO Parkinson Spoon and Fork for hand tremo, all kinds of meal 360 degree stabilization solution, offsetting 85% unwanted tremor
GYENNO Spoon for hand tremor:Steady helps people with eat more easily. Steady is designed to counteract tremors and shaky hands that may be related to conditions like Parkinson's disease or essential tremor.
Less Shake Less Stress:360 degree stabilization solution, offsetting 85% unwanted tremor from the intended movement of your hand. Intelligent high-speed servo control system provides fast and accurate stabilization. Attitude algorithm technology used for UAV improves its stable level. Automatically distinguishes between intentional hand motion and unconscious tremor, only detect unconscious tremor.
Safe materials: The material used in GYENNO Spoon are: Tritan covering, BPA - free, clarity, toughness, and chemical resistance. Silicones , ensure a safe eating experience.
Sustainable:Fully charged battery can run three meals a day. The maximum use of time is 180 minutes. Replaceable battery designed. Easy to use:Automatic mode use; Switch on and off automatically; Automatically turn to sleeping mode when you stop using; Significantly reduce power consumption.
For all kinds of meal: Different utensil attachments designed for various food,easy to change and clean. We have designed different utensil attachments for the user. which include an everyday spoon, a fork attachment.
READ MORE: How Does the Parkinsons Spoon Work?
---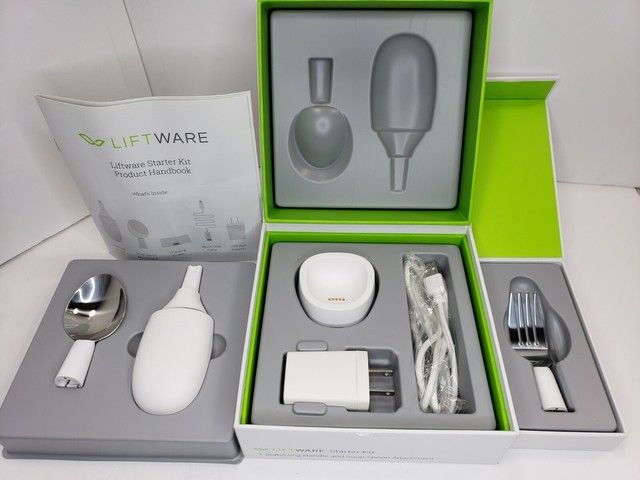 Besides Gyenno, Liftware is another company that offers excellent self-stabilizing spoons for people with Parkinson's or people with essential tremors.
The Steady spoon reduces shakes and trembling up to 70% so that your utensils remain steady during a meal.
The handle has built-in advanced sensors, a computer, and a motor to detect and counteract unconscious hand movements.
Most customers find using this Liftware assistive device easy and liberating because it prevents spilling food everywhere.
Moreover, Liftware's spoon is suitable for cereals, soups, and liquids. It can hold approximately 15 ml of content, the same as any ordinary tablespoon.
Another advantage of Liftware is that the battery is rechargeable and lasts about an hour when fully charge.
Unlike Gyenno's device, Liftware comes with a charge, and it easy to plug the handle into the charger when you've finished eating.
Liftware Steady Starter Kit also comes with a traveling pouch and a hand strap so that you can carry it with you without getting your utensils dirty.
You can also purchase everyday spoon, fork, and spork attachments separately.
But, make sure that you don't get the handle wet because of the electronic components. The manufacturer recommends wiping it with antibacterial wipes.
You can wash the spoon/fork attachments in the dishwasher or clean them with warm water and a sponge.
| Benefits | Drawbacks |
| --- | --- |
| Perfect for cereals, soups, and liquids | Fork/spork/everyday spoon attachments sold separately |
| Has a traveling pouch | Not very suitable for severe hand tremors |
| The spoon holds about 15 ml of content. | |
| Reduces shaking up to 70% | |
RELATED: Best Weighted Gloves for Parkinson's
If you're looking for Parkinson's spoons that are within any budget, you should take a look at Special Supplies and their Adaptive Utensils Kit.
For starters, it includes four eating utensils – a fork, a knife, a dinner spoon, and a soup spoon to cover all your meal needs.
Moreover, all the utensils are wider to counteract tremors in people with Parkinson's or arthritis and have ribbed handles with texture grips to increase stability and hand control.
More importantly, each utensil is made of stainless steel, which ensures durability and functionality. You can also toss the spoons in the dishwasher when you're done eating without damaging them.
The Special Supplies' Adaptive utensil kit is also available in two colors – black and grey – to match your kitchen's interior.
However, the utensils are non-weighted, which is a slight disadvantage for people with Parkinson's. But the ergonomic design ensures that four utensils fit well into the hand and don't slip.
Still, the handles are far too wide for some users. They also note that the silicone part of the spoon smells terrible.
| Benefits | Drawbacks |
| --- | --- |
| A set of four utensils | Not weighted |
| Ergonomic design | Handles might be too wide for some customers |
| Composite handles | |
| Dishwasher safe | |
Special Supplies Adaptive Utensils (5-Piece Kitchen Set) Wide, Non-Weighted, Non-Slip Handles for Hand Tremors, Arthritis, Parkinson's or Elderly use - Stainless Steel Knives, Fork, Spoons - Black
Supportive Utensils – This set of adaptive kitchen utensils for adults are wider with a non-weighted design to support those with hand tremors, Parkinson's, or arthritis.
Wide, Non-Slip Grip – Each of our non-weighted adaptive utensils features a wider ribbed handle with raised, textured grips to improve dexterity and control.
Stainless-Steel Durability – Along with a food-grade safe silicone handle, each kitchen fork, spoon and knife is made with dishwasher safe stainless steel.
Matching 5-Piece Set – Every order comes with five unique eating utensils, including a fork, knife, rocker knive, dinner spoon and soup spoon to cover a wide range of meal choices.
Multiple Colors Available – Easy to clean and ultra-durable, these adaptive eating utensils also come with black or gray silicone handles to better match your kitchen.
---
What to Look for in Parkinson's Spoons?
Parkinson's disease affects between seven to 10 million people worldwide. Unfortunately, scientists have yet to find a cure or understand what causes it.
It's a progressive condition that affects the dopamine-producing neurons in the brain and results in loss of motion control and involuntary movements.
Usually, Parkinson's starts with barely noticeable tremors in one hand that gets worse in time. Your hands and fingers might shake and tremble so much that it could be hard to grasp things and hold them steady.
Moreover, Parkinson's disease causes stiffness in the arms and legs and makes it hard to do simple tasks as the condition progresses.
Fortunately, thanks to the development of Parkinson's spoons, you'll forget about spilling the food or needing someone to feed you.
When you're shopping, the most important part is the handle. It should provide a good grip so that you can eat your meals comfortably without spilling.
In general, the best Parkinson's spoon has sensors that learn your hand's movement habits and predict unwanted movement for better hand stability. But these also tend to be expensive.
Spoons with rubber handles also have a good texture and prevent the spoon from slipping, but they don't stabilize the hand so well. On the plus side, they're cheap and affordable.
Besides stability and grasp, you should also consider what's the spoon made of and how easy it's to wash it. Usually, stainless steel and silverware might handle hot food better than plastic.
READ MORE: How to Eat With Parkinson's Disease (Diet and Nutrition)
Are Parkinson's Spoons Safe?
Some of the Parkinson's stabilizing spoons contain magnets. As such, they can be dangerous for people with cardiac pacemakers, and you shouldn't hold them too close to the body.
To be safe, always read the product's instructions and directions. If you have questions, don't be shy to reach the manufacturer or seek your doctor for advice.
Since some Parkinson's spoons have electronic components, you should keep them away from microwaves and heating sources to avoid damage.
Moreover, make sure that you follow the cleaning instructions. Submerging these specialized devices in water might nullify the warranty, and you might not get a replacement.
Also, keep the spoons from aerosol or administered oxygen, as it might produce harmful effects. Wipe the handle after each use to prevent the build-up of bacteria. 
Also: Best Weighted Pen for Tremors
Shaky Hands – How to Regain Control
We are aware that eating might become a stressful event for people with Parkinson's or people, especially when you're in restaurants or have guests.
So, we've got 5 tips on how to make your tremors less noticeable and overcome the challenges of daily life.
#1 Stay Calm
Parkinson's tremors negatively affect your motor skills, the ability to do daily tasks, and your self-esteem.
You start worrying about other people noticing your shaking, and it makes your tremors worse. That's because stress and anxiety increase tremors related to Parkinson's disease and ET (essential tremors).
If you're trying a new Parkinson's spoon, do it alone so that you don't feel pressure to succeed.
Once you're more confident in your ability to use the spoon, you won't be nervous about doing it in front of other people.
Moreover, you might talk to your doctor about relaxation techniques to help with the anxiety. Regular exercise might also reduce your anxiety levels.
#2 Don't Forget to Take Your Medication
Since Parkinson's disease caused bradykinesia (slowness of motion), the simplest tasks might take you longer than usual.
As such, it's easy to forget to take your meds when you're engaged in other activities. But taking your pills later than usual can have a negative effect on your tremors.
Use a timer or another device to remind you when it's time for the medication. You might also engage a family member's help to ensure you take your meds.
#3 Keep Your Hands Busy
Parkinson's tremors often occur while your hands are still. That's why they're called resting tremors.
One way to decrease the trembling is to keep your hands busy and make purposeful movements. In this way, the motion blocks the signals causing the resting tremors.
You can roll a coin around your fingers, squeeze a ball, or grasp something tightly in your hands. It will send the right message to the brain.
#4 Avoid Food/Drinks that Make the Tremors Worse
Too much coffee can make any person shake from hands to toes. So, if you have Parkinson's, you should avoid caffeine as much as possible since it can make your shaking worse.
You should also remove chocolate and other foods/drinks containing caffeine from your diet.
Also, pay attention to what you eat and how it influences your tremors so that you can adjust your diet.
#5 Use Weighted Objects
Handling delicate objects can become frustrating when you've got Parkinson's. Consider replacing glasses and other essentials with heavier versions to make it easy to handle them.
If you're not worried about breaking something, you'll be more confident when you grasp glasses and other delicate things.
Learn more about Parkinson's on this video:
READ MORE: Are Weighted Utensils Good for Parkinson's?
Conclusion
A stabilizing Parkinson's spoon can make all the difference when it comes to meals. Instead of dreading eating, you can enjoy it once more.
Gaining some of your motor skills back will also have a hugely positive effect on your confidence and self-esteem. Being self-sufficient again can work miracles on your quality of life!
So, don't be afraid to try a Parkinson's stabilizing spoon, and don't give up too quickly! It takes time for your hand to, but when it does, you'll soon notice an improvement in your trembling.
Our Top Recommendation
If you are a bit unsure about what to pick, we suggest that your try the Liftware Steady Kit with its elegant and inconspicuous design.
It wins the title of the best Parkinson's spoon because it effectively decreases tremors and has sensors to predict uncontrollable movements.
Thanks to the travel pouch, you can bring the set when you're traveling or use it in restaurants without drawing attention to yourself.
Liftware's kit is also suitable for people with cerebral palsy, spinal cord injury, Huntington's disease, or post-stroke deficits.
What do you think about these 3 top Parkinson's spoons? Have you ever used one, and what's your opinion of such assistive devices? Tell us in the comment section.
Dayna has an incredible passion for helping others and a background as an in-home caregiver for the elderly. She left the field temporarily three years ago to stay at home with her twins, but found that she really missed working with senior citizens. She launched LoAids as a way to help not just her own loved ones and former clients, but ALL seniors live life to the fullest in their golden years.  Follow her on LINKEDIN and TWITTER. Read her LATEST POSTS. Learn more about her HERE.