Planning a milestone birthday needs 60th birthday celebration ideas and just like 60th birthday party invitations, 60th birthday party favors also need to be well thought of.
60th birthday party favors make for a personalized birthday celebration. It is the guest of honor's way of showing his appreciation to people who mean much to him.
There are many marvelous souvenir ideas that you can come up with that can easily fit into different kinds of 60th birthday [1] themes.
Take a look at these suggestions which are sure to add a touch of fun and nostalgia to such a joyous occasion.
This post contains affiliate links. We earn a commission if you purchase at no extra cost.
Also Check: Fun 60th Birthday Cake Ideas
8 Party Favors for a 60th Birthday
There are so many party favors that one can find, whether you shop online or at an onsite shop, that is truly captivating and unique. Here are some of our best finds.
1. Photo Biscottis
Biscottis take coffee to a next level. Take it even higher with these personalized photo biscotti which are great to serve with any after-dinner, coffee, or tea.
Wine stoppers are perfect party favors to give away to friends and guests who mean a lot to the celebrant. Add a picture or some meaningful words for that personalized touch.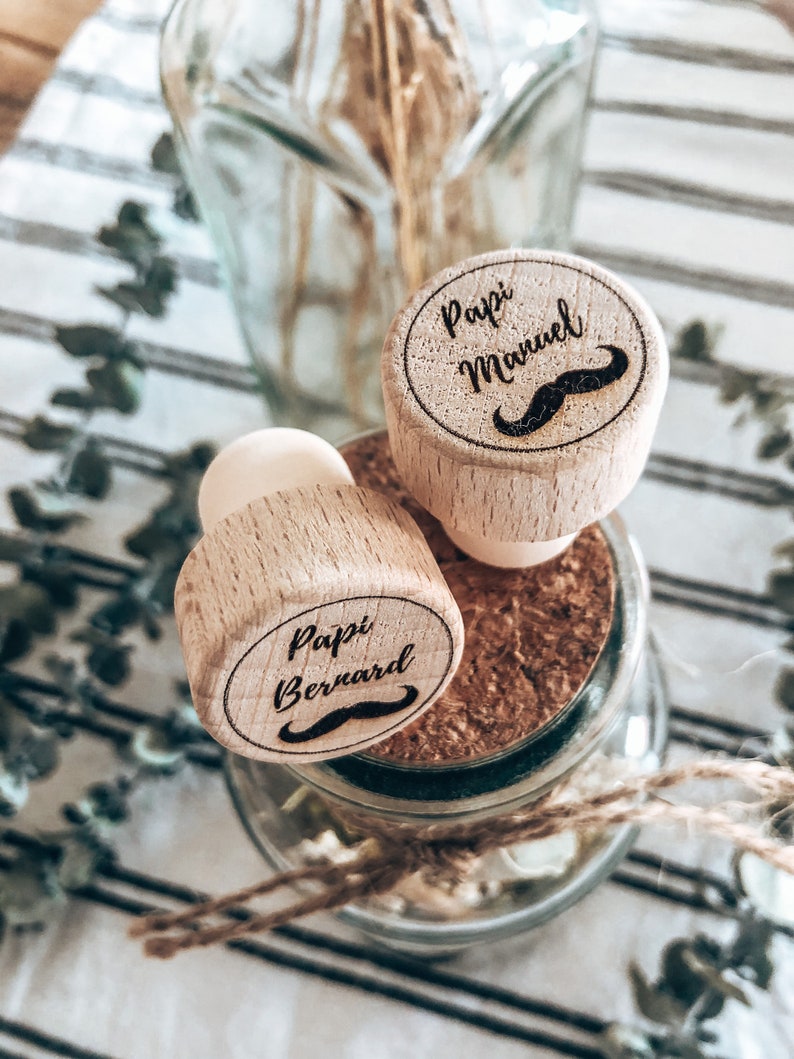 Let everyone know that your birthday celebrant is out to finally see the world with this adorable airplane bottle opener.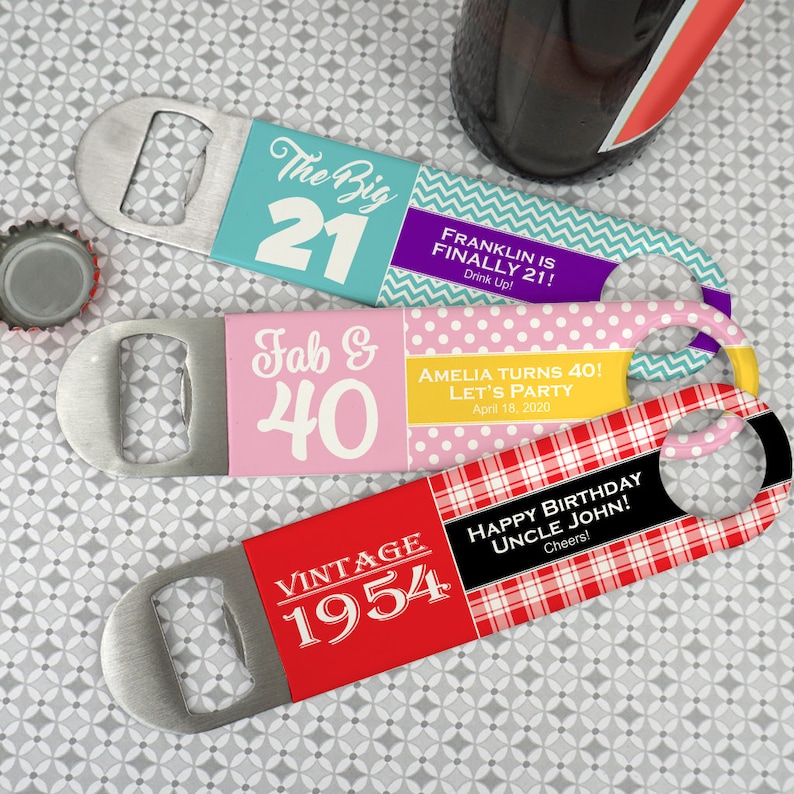 Birthday balloons make a great addition to any birthday party. They can also make for a great birthday centerpiece for a picture-perfect party table just like the one shown here.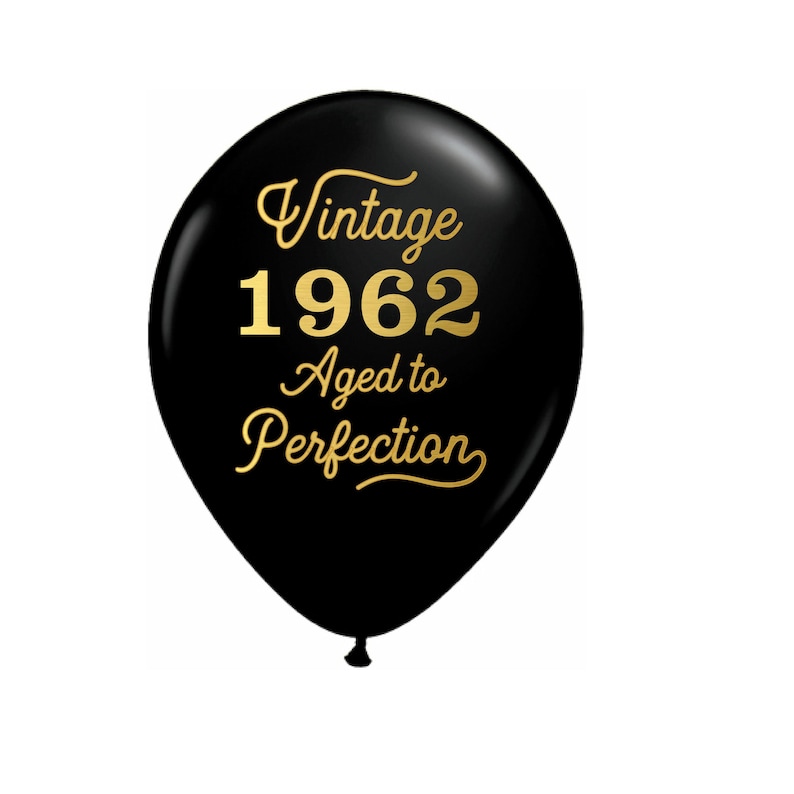 If you're planning to have an evening affair, you can also check out LED balloons which would look perfect, especially in a garden setting.
LED Balloons,10 Pack Light Up Balloons 24 Inches Transparent Helium Glow Bobo Bubble Balloons with String Lights for Valentines Day Halloween Christmas Wedding Birthday Party Decoration
💙High Quality Led Balloon💙:Transparent large bobo balloon, made of environmentally friendly TPU, no odor, durable, recyclable, not easy to rupture. To inflate the balloon to its maximum (18 inches), YOU MUST USE SOME INFLATABLE TOOLS SUCH AS A PUMP OR A HELIUM TANK. THE BALLOON CANNOT BLOW UP WITH YOUR MOUTH!!!
💙Magic Glowing Decoration💙:Our glowing balloons can be inflated for approximately up to 18 inches (Before Inflation, Only 8 Inches) and keep the air up to 7 days without leakage. The light string box comes with switch and you can turn the light off and on at any time.
💙Easy to Use💙:To activate the LED Bubble balloons and glow in the dark party, fill the balloons with air or helium and put 2 batteries in the battery box (picture 6). Great for birthday, party, wedding, anniversary, pool party, dance club or any other special occasion worth celebrating.
💙Package Include💙:10 X LED String Lights, 10 X Bubble Balloons, 50 X Clear Seal Stickers. Note: Only floating by full of Helium. Don't near by fire while floating.
💙No Risk Purchase💙:We have 90-day money back and 12-month replacement warranty for all customers. If the Bobo light up Balloons don't meet your need or any defect, please contact us and customer care team will response you within 12 hours.
Get ready to toast to a new phase in your birthday celebrants with custom-made shot glasses that can double as memorable souvenirs your guests can take home as well.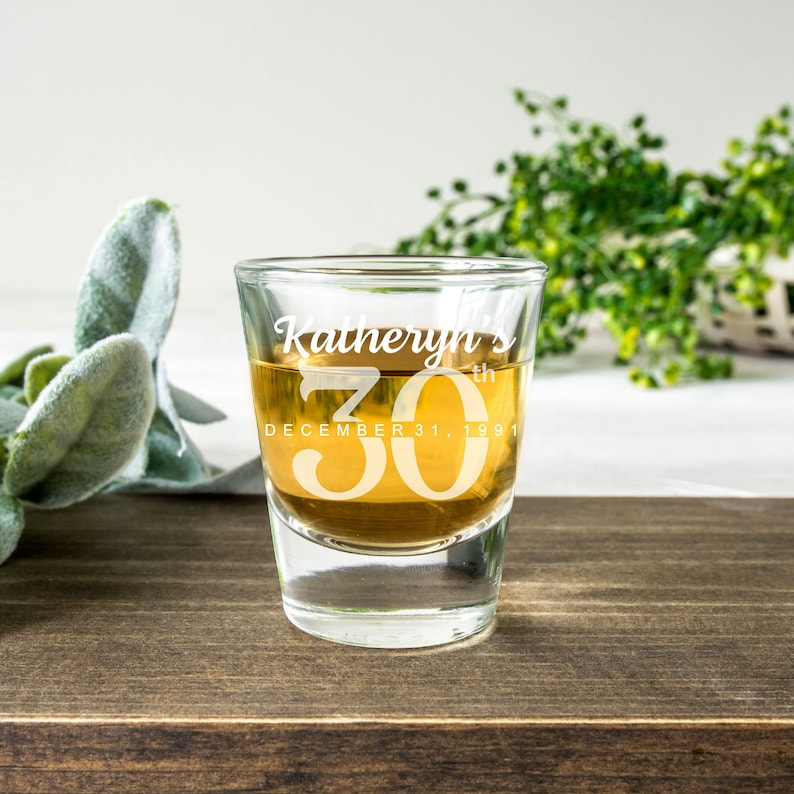 If you aren't into shots, you can also try personalized party glasses or wine glasses too!
Fill personalized party favor bags with small tokens and memorabilia that your party guests will appreciate. A black bag with a gold design is perfect for any formal birthday celebration just like what is shown here.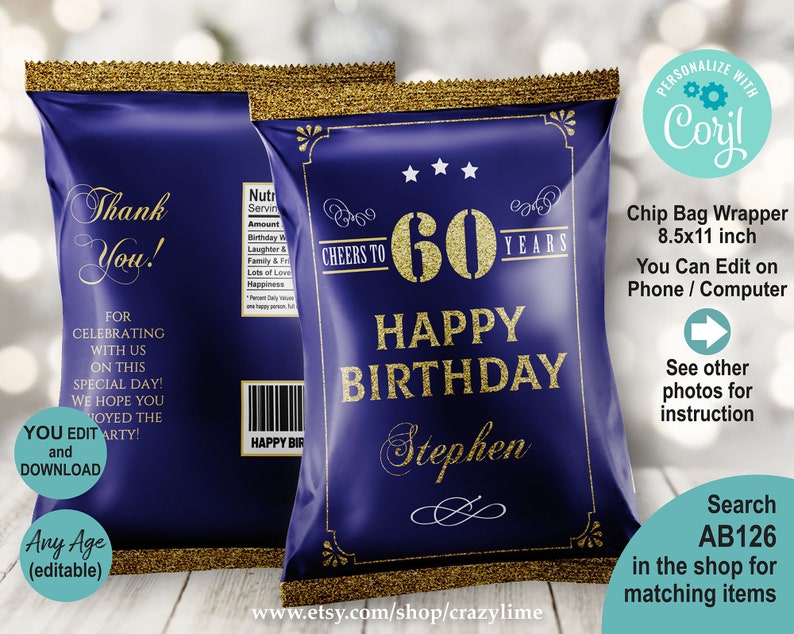 For party favors with fun designs, try this filling prescription bottles with custom labels and fill them with your M&Ms to serve as candy favors just like what is shown here.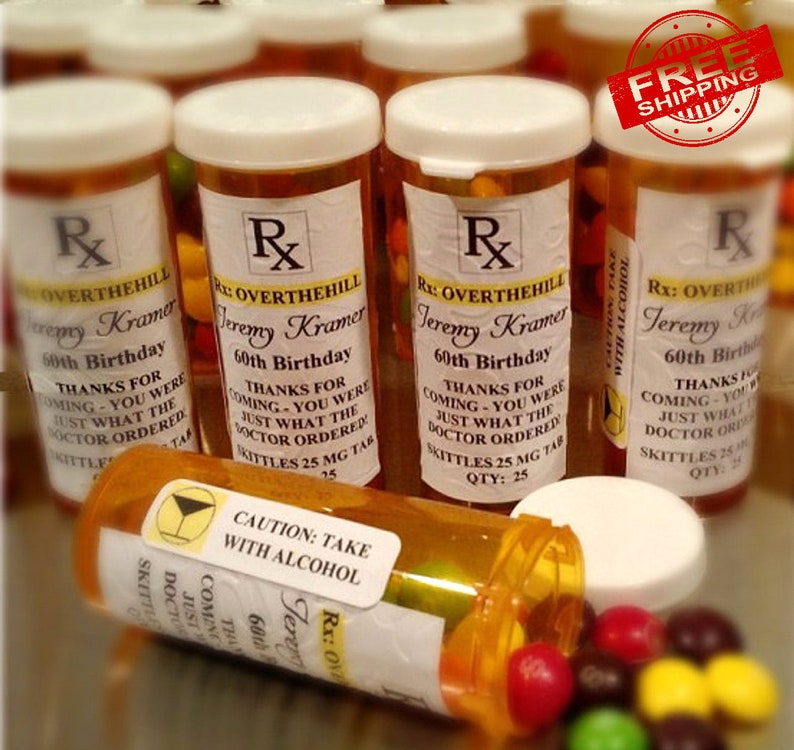 Birthday buttermints in personalized candy tins are terrific to serve after meals. They can take them home too as part of your 60th birthday giveaways.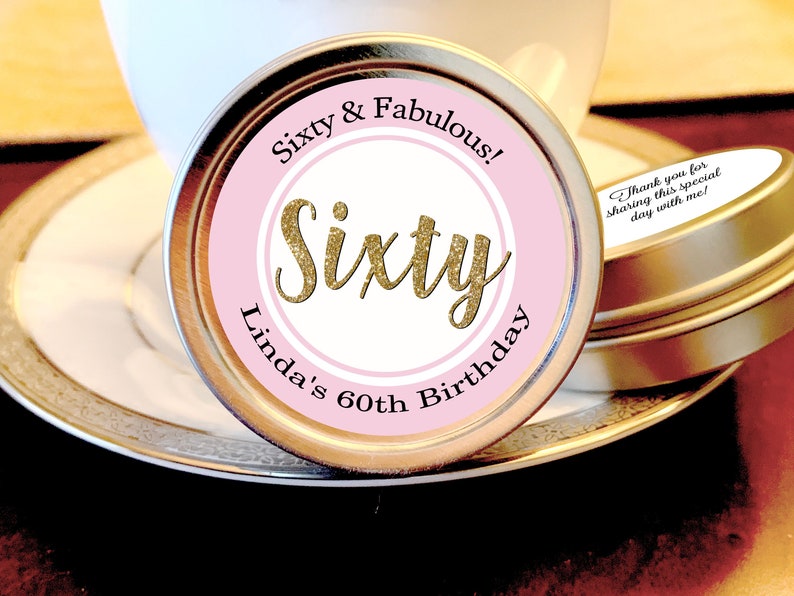 DIY Party Favors To Try on 60th Birthday
If you are under a budget, you can try making your own 60th birthday party favors yourself.
1. 60th Birthday Party Stickers
Creating your own stickers is the fastest way to personalize your party favors. You can stick them to candy tins and prescription bottles, just like the party favors shown above.
Having a Cricut machine [2] at home is probably one of the most practical things to own at home when doing crafts and art projects.
If you own a Cricut, creating stickers will probably be the easiest thing in the world for you to do. Check out this video which shows you how simple it is to create your own stickers using a Cricut.
If you don't have a Cricut though, you can still create your own stickers using a regular printer just like what is shown in this video here.
2. Dollar Store Treasures
Your friendly dollar store is a haven of art materials that you can use to create different kinds of party favors.
You can get hold of party glasses, acrylic placeholders, and poster boards that you can make use of to create placeholders for your tables.
You can personalize them using gold and silver permanent pen markers. Check out the different materials available in the dollar store and get as creative as you want.
Check out this video for some ideas of what party favors you can create from materials you can find at the dollar store.
3. Using Recyclable Containers
Don't throw away those microwaveable plastic containers that you use for food to go.
Repurpose these plastic microwavables and fill them with goodies like 60th birthday cookie favors and other treats for guests to enjoy.
Use gold tulle, like the one on this video, for a gold birthday party theme that's perfect even for a formal setting.
4. DIY Birthday Backdrop
An elegant birthday backdrop can be eyecatching. It is the perfect decor which, at times, is the highlight of any celebration.
Although this party decor can be bought in stores that sell birthday party supplies, you can create 60th birthday decorations like these for a more customized birthday feel.
Elegant doesn't have to be expensive. With the use of curtains and paper flowers as shown here in this video, (you can create a backdrop that is Instagrammable for any of your guests.
FAQs
What is the motif for the 60th birthday?
There really is no fixed theme for a 60th birth celebration. All that needs to be remembered is that 60th birthday themes and 60th birthday ideas have to focus on the celebrant. Let his interests and personality be your guide in choosing the right motif for your loved one's birthday.
What color goes with 60th birthday?
There is no strict rule when it comes to color although, more often than not, classic colors such as black, white, and gold are often chosen to commemorate a person's sixtieth year.
What should I wear to my 60th birthday party?
This depends on how you plan to celebrate your birthday. Garden celebrations call for a more casual and laid-back style. Formal celebrations are more dressy so you are expected to dress accordingly as well. 
Conclusion
Age is just a number and how people view their age can be quite subjective [3]. That said, 60 is still a time in a person's life when many major changes may occur.
60, whether we agree or not with the number, is a milestone so celebrations should be well planned.
60th birthday gifts, 60th birthday invitations, and 60th birthday party favors, when well thought of, will all help in making this milestone a truly memorable one.
Resources
1. How You and Your Body Change During Your 60s. WebMD. https://www.webmd.com/healthy-aging/ss/slideshow-aging-60s
2. Cricut Machines for absolute beginners. CraftWorld. Published February 2, 2021. Accessed March 10, 2022. https://craftworld.com/cms/cricut-guide-beginners/
3. Robson D. The age you feel means more than your actual birthdate. Bbc.com. Published 2018. https://www.bbc.com/future/article/20180712-the-age-you-feel-means-more-than-your-actual-birthdate