Sit-down games for senior citizens are an excellent way to relieve them of boredom, especially in long-term care.
These are fun activities that help promote the social interaction needed for their emotional well-being.
The games also encourage seniors to think and are considered a form of brain exercise that can help delay, or even prevent, cognitive impairment.
The benefits they get from playing sit-down games can improve their quality of life.
READ MORE: Mardi Gras Games for Seniors
Check out this video for a quick rundown:
15 Entertaining Sit Down Games for Seniors
1. Cup Stacking
Cup stacking can be an exciting game since it involves speed. This game helps maintain cognitive skills by encouraging seniors to stay alert during the game.
Check out this video for cup stacking basics.
Make sure to also check these Nintendo Switch Games for seniors:
2. Bingo
Bingo is a game that is commonly found in assisted living homes. It may be one of the most popular indoor games for seniors. Some might wonder, "Why do old people like bingo?"
A study in 2015 has shown that a combination of health education, exercise, and bingo improved the life quality of many seniors significantly. (1)
It also helps improve hand-eye coordination so that this does not rapidly decline in old age.
This game of luck is usually played in groups, so it highly encourages social interaction as well.
If you are not familiar with how the game is played, you may want to check out this video to know the basic rules of bingo.
Are you interested in buying your own bingo set?
3. Jigsaw Puzzles
Another activity that is usually organized in senior homes is jigsaw puzzle night.
Solving jigsaw puzzles keeps the mind active and can significantly maintain cognitive function (2), especially if you have a senior in the early stages of dementia.
Jigsaw puzzles also help maintain fine motor skills as the individual handles the jigsaw puzzle pieces.
When done in groups, solving jigsaw puzzles also encourages social interaction.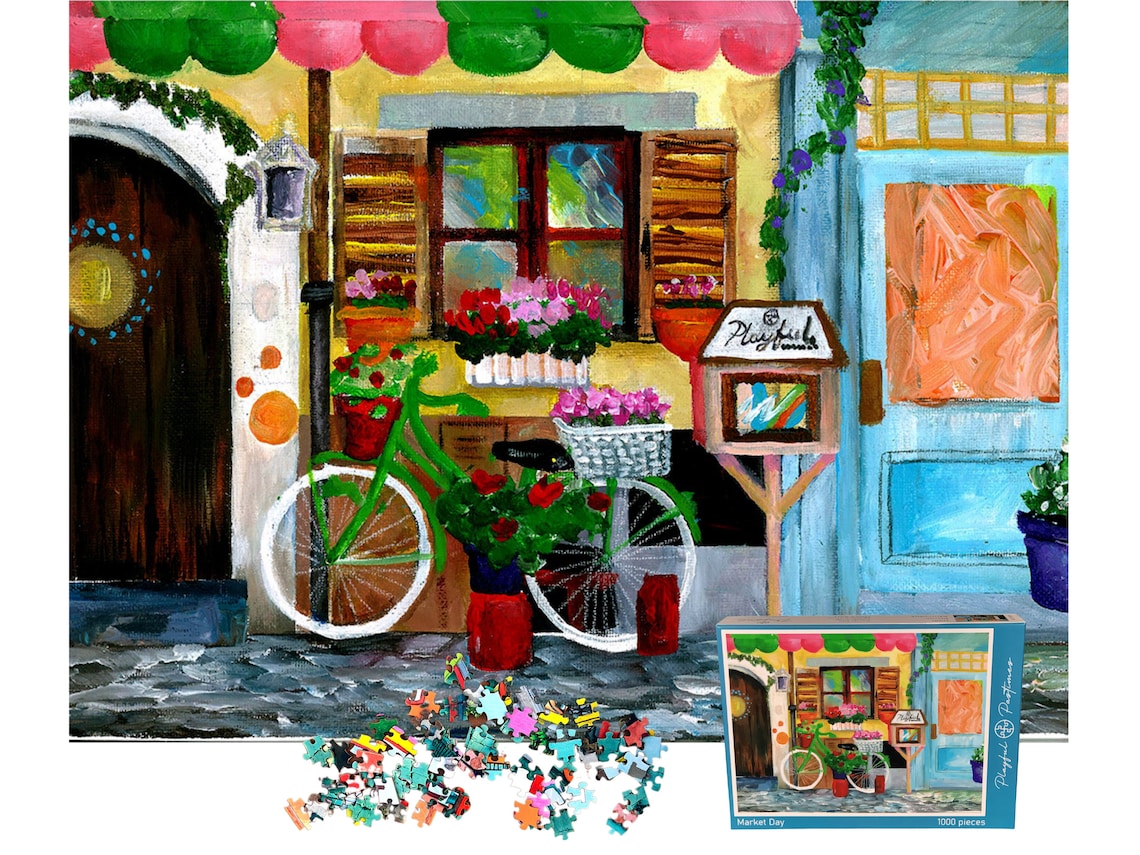 This 1000-piece jigsaw puzzle is filled with lively colors that will be a pure delight.
CHECK: Games for the Blind Elderly
4. Taboo
Taboo is a classic game that can be played the traditional way as card games or as an online game.
Taboo is a game where players are made to create phrases to describe specific pictures. This serves as a great mental exercise that can help maintain brain health.
This video easily explains the game rules.
5. Boggle
Boggle is another game that is also a tremendous cognitive exercise since it requires the players to look for words in a group of letter tiles within a minute.
Social skills are also maintained since this is played in groups.
Learn more about the game by clicking this link.
READ MORE: Hobbies for Disabled Seniors
6. Scrabble
Scrabble is another word game for seniors, usually played in retirement homes. Scrabble nights are pretty standard in these homes.
Scrabble is one of many board games that also targets the cognitive skill of individuals.
Just like boggle, scrabble is a word game that is quite similar to crossword puzzles. This makes individuals think and is a great mental exercise.
Here is a simple video about the game and its rules. And if you're struggling or intimidated by the game, try a tool that can unscramble letters from words, like Unscrambled Words.
7. Monopoly
This is another popular game for many seniors needing strategic skills and cognitive benefits.
This is considered an enjoyable game that highly encourages social bonding.
Players are encouraged to acquire property and money to win the game. Rolls of the dice can send players to jail or earn them additional bucks.
If you haven't played Monopoly, check out this video to learn more about the game.
8. Clue
Clue is a logic game that requires players to solve a mystery murder. It's another popular board game that continues to capture the interest of many seniors.
To learn more about this game, check out this video.
9. Memory Game
The memory game is simple and uses a deck of ordinary playing cards.
This game can be pretty challenging since, as the name implies, it is meant to enhance the memory skills of aging individuals.
This game lays All playing cards on a table face down. These are then opened in pairs to make a match. The player with the most number of matched cards wins.
Here is a fantastic video for more about the memory game.
10. Card Games
Various games can be played using ordinary playing cards.
Poker nights are pretty standard among men in senior homes. Gin rummy, old maid, and hearts are just some of the many games that can be played to encourage social interaction among seniors in long-term care.
Check out this video to see some of the most famous card games that can be played in senior homes.
11. Uno
Uno is a unique card game that requires matching cards by either number or color until not a single card remains on a player's hand.
This game is usually played by groups of four and is an excellent replacement for those already bored of poker every Wednesday night.
Familiarize yourself with the game by watching this video.
12. Simon
This memory game is excellent for enhancing memory skills for those who aren't into group games.
Online games can be downloaded to mobile devices.
Here is a brief idea of how you can play the game, Simon.
13. Mobile Games
There are several mobile games that you can download on devices that can be enjoyable for seniors.
Solitaire and Candy Crush are the more popular games among seniors since they use logic and some bit of strategy.
Many seniors find these enjoyable due to the colors and challenging due to the games' level of play.
If you are unfamiliar with Candy Crush, check out this video.
14. Pencil Puzzles
Puzzle books by Penny Press and Dell Puzzles are another option for those not fond of group games. These provide hours of pleasure and challenge so that mental health is maintained.
There are puzzle books that have purely crossword puzzles. Some have different kinds of word games like acrostics and fill-ins.
There are puzzle books with word searches, and for those who aren't really into word games, there are puzzle books for logic puzzle lovers.
Sudoku and math puzzles are also there for number lovers as well.
15. Charades
Charades are part of the many fun group games that can be done during a birthday party celebration or just during any simple evening.
This is usually done in teams. This game aims to guess a word through actions performed by a single team member.
This game always thrills anyone and is simple to play without needing any special equipment or gadget.
Check out this fun video on how to play charades.
FAQs
What can bored seniors do?
Bored seniors can engage in different activities that their senior homes offer, such as dancing or doing senior exercise classes. There are also movie nights and game nights that can keep them busy and active.
How do you entertain an elderly person with dementia?
You can entertain a person with dementia by engaging them in simple activities like listening to music or watching a movie. Have them engage in simple crafts that help maintain their cognitive abilities.
What other activities help maintain a person's cognitive ability in old age?
Engaging in arts and crafts is recommended for seniors, especially those with dementia and Parkinson's disease. These activities help delay the onset of symptoms such as memory loss.
Conclusion
Research has shown that playing games are great for senior citizens. They help improve cognitive function, provide socialization opportunities and improve their quality of life.
If you have a loved one who is a senior citizen, we encourage you to introduce them to some of the great sit-down brain games highlighted in this post.
Not only will they enjoy themselves, but you can rest assured knowing that they are also benefiting from playing these fun games!
What are your favorite sit-down games for seniors? Please share below!
Resources
1. Crandall KJ, Steenbergen KI. Older Adults' Functional Performance and Health Knowledge After a Combination Exercise, Health Education, and Bingo Game. Gerontology and Geriatric Medicine. 2015;1:233372141561320. doi:10.1177/2333721415613201
2. Erwanto R, Kurniasih DE. The effectiveness of puzzle therapy on cognitive functions among elderly with dementia at Balai Pelayanan Sosial Tresna Werdha (BPSTW) Yogyakarta, Indonesia. Bali Medical Journal. 2020;9(1):86. doi:10.15562/bmj.v9i1.1628