Mulling over the PERFECT seasonal craft for seniors?
Look no further than these 20 brilliant, novel ideas!
There's always something new to create, whether leaf printing in the fall or sun catcher making in the summer.
KEEP READING to explore the magnificent world of seasonal crafting for seniors and learn something new today!
Key Takeaways
Seasonal crafting is not only fun but also provides a way for seniors to express their creativity and stay mentally engaged, leading to improved mood and well-being (1).
Crafting activities can also foster new skill development, socialization, and a sense of community through group projects and workshops.
With endless options from ornaments to adorable paper turtle crafts, there's a craft out there for every senior to explore and enjoy, regardless of their interests or abilities.
20 Eye-Catching Seasonal Crafts Ideas for Seniors
Do you want to know something cool? Studies show that cognitive stimulation can produce huge gains in memory in older adults (2)!
What's more, by staying busy, active, and engaged, seniors can optimize their health and happiness. One fantastic way to stay engaged is through crafting.
Especially as the season changes, there are numerous easy spring crafts for seniors that are both enjoyable and beneficial for cognitive stimulation. So dive in and learn about these 20 life-changing seasonal crafts today:
#1 Shell Stepping Stones for a MAGICAL garden
Transform your garden into a WHIMSICAL wonderland with these attractive DIY shell stepping stones — the perfect addition you need to make your garden sparkle and shine like diamonds!
#2 Ornaments Galore!
Get your senior crafting on with these fun and festive seasonal ornaments that are guaranteed to make you feel like Santa's little helper…
Looking for some other fun craft ideas? Check out our articles on easy winter crafts for seniors, summer craft ideas for adults, and Christmas craft ideas for adults. Whether you want to stay cozy indoors or get creative outside, we've got you covered!
#3 Leaf Art Square
Here, you could join forces with this leaf art square — the perfect seasonal craft for seniors that will have you feeling like a forest nymph in no time!
#4 Wood Slice Feather Turkey Crafts
If wood could grow feathers, I live in marshmallow land (maybe I am!).
Go ahead and join me: making your own feathered friend, you could carve an immaculate flock of Wood Slice Turkey decor for an autumnal picturesque.
#5 Adorable DIY Paper Turtle Crafts
Try it out if you want a shellebration of creativity with these easy and charming DIY paper turtle crafts that will make you feel young at heart.
It is simply adorable.
#6 Love Bug Bookmarks — Perfect for Valentine's Day and Beyond
Perfect for Valentine's Day or any day, these cute and colorful bookmarks will keep your place in style and show off your love for books.
#7 Winter Tree Crafting Splendour: Create a Beautiful Straw-Printed Masterpiece!
You won't believe your eyes when you see the most stunning Christmas tree ever — I can't beat this piece of magic!
#8 An Apple a Day: Cute Paper Alchemy
With these fun and easy apple-themed paper crafts for seniors, you can turn everyday materials into cute, charming decorations that will brighten up any room.
#9 Fun and Festive Snowman and Cardinal Craft
If you want to see something new, try making a snowman and cardinal craft — perfect for seniors looking to get creative, stay engaged, and add some holiday cheer to their homes!
#10 Stay Stylish and Festive with This Adorable Snowman Craft Pin
Create an adorable snowman craft pin that is both charming and stylish.
Seniors eager to stay engaged and unleash their creativity will find this project an excellent way to express themselves.
#11 Easy and Creative Fish Craft Art Project
You could dive into the world of resist art with these fish crafts.
These are perfect for seniors looking to try a new technique and create a beautiful, unique piece of art showcasing their creativity and imagination!
#12 Paper Glasses – a SASSY and Glamorous Craft
What I like about these DIY paper glasses is that they're simply perfect! These unique and eye-catching accessories are a DELIGHT for any holiday occasion — add some cheer to your outfits.
Also, don't forget to check out this glorious video on making paper glasses (boots 'n all):
#13 Pot Belly Owl Crafts For a Classy Time
The Pot Belly Owl Craft will quickly become a favorite — let me convince you in a second…
It's simple enough for beginners but allows for creativity and personalization, making it a great activity for socializing and building connections with other seniors (check it OUT!).
#14 Boost Creativity and Collaboration with Vibrant Colorful Designs
Do you know what I like about color? Each color tells a story.
If you're the creative type, you should give these designs a try: these are simply PERFECT for promoting cognitive wellness and engagement in seniors…
#15 Brighten Up Any Room with Stunning Paper Flower Bouquet Crafts
If you love flowers, you'd be surprised to hear you can create them from scratch!
#16 Tulips: An Ancient Symbol of Prosperity
I could imagine a fancy occasion — one romantic winter — where absolutely needs a couple of these on the table…
#17 DIY Sticky-Note-Flowers: A Perfect Craft for Seniors to Boost Creativity
Flowers are like the colorful and fragrant jewels of the natural world, adorning landscapes and brightening our lives with their beauty.
#18 DIY Rainbow Button Canvas Art: The Joy of Colorful Crafting
All the colors of the Rainbow are unique. What's more, you could use them to create a masterpiece called the Rainbow Canvas, perfect for seniors.
#19 Get Festive with Felt Holly Ornaments
Deck the halls with our felt holly ornaments, superb for anyone who wants to add a touch of festive cheer to their holiday decor.
Look at them: they are small, cute, and work like CHARMS!
#20 3D Autumn Tree Crafts: Bring Beauty to Your Home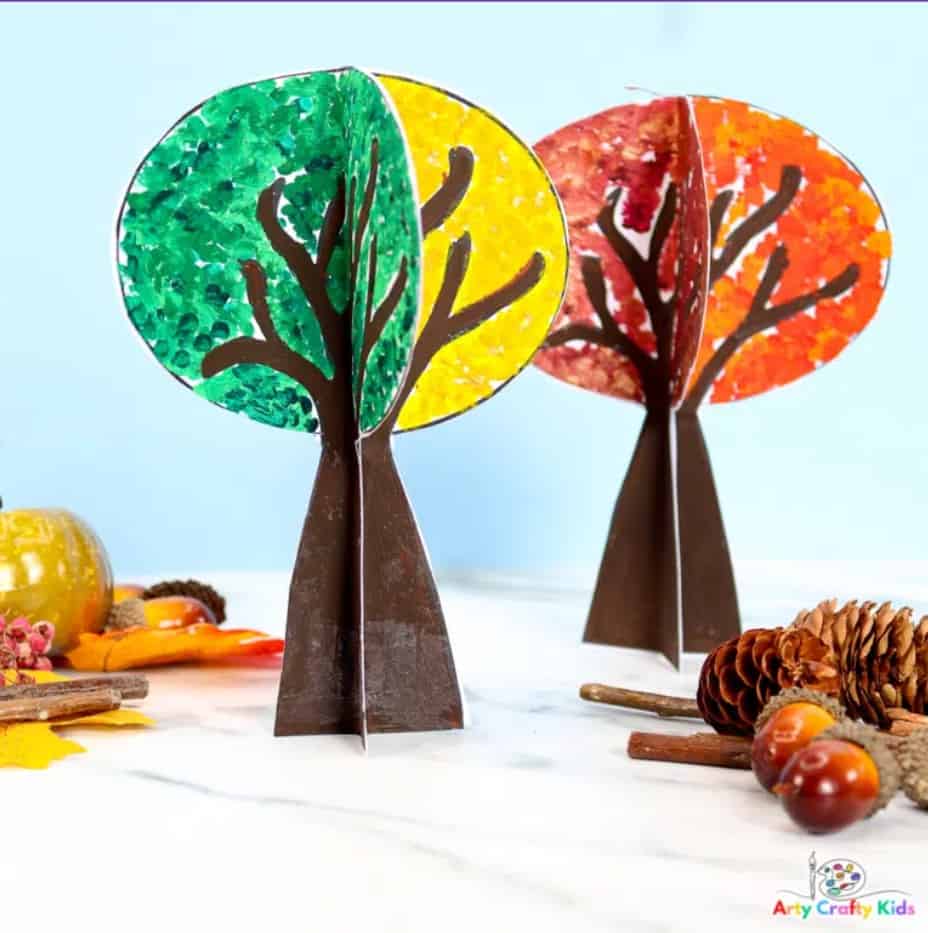 Want to feel like a kid again? Who doesn't! I love to create these magical trees, full of vibrant colors and textures to brighten up your day:
FAQs
1. What are the benefits of seasonal crafts for seniors?
Seasonal crafts provide seniors with a fun and engaging way to celebrate holidays and seasons. They can also promote socialization, improve cognitive function, and give a sense of accomplishment.
2. Can seasonal crafts be modified for seniors with physical limitations?
Adapt seasonal crafts for seniors with physical limitations. Larger or softer materials benefit those with arthritis, while tactile materials help those with visual impairments.
3. How can I incorporate seasonal crafts into a seniors' activity program?
Encourage seniors' creativity with seasonal crafts. Offer materials, instructions, and guest artist workshops. Showcase their work in art shows or craft markets to unite the community.
Conclusion
Seasonal crafts for seniors do exist!
In addition, they provide an excellent way for seniors to express their creativity and engage in mentally stimulating activities that improve mood and well-being.
These crafts also promote skill development, socialization, and a sense of community through group projects and workshops.
This article presented 12 seasonal craft ideas perfect for seniors, from shell stepping stones to paper glasses.
Whether it's fall leaf printing or summer sun catcher making, there is something for every senior to explore and enjoy, regardless of their interests or abilities. So, get crafting and let your imagination run wild!
These 20 ideas will inspire you to create something beautiful and unique while keeping your mind and hands busy.
Resources
1. Diedrich L, Antal A. TU-147. Means to improve cognition in healthy older adults and patients with mild cognitive impairment – from training to non-invasive brain stimulation. Clinical Neurophysiology. 2022;141:S20.
2. Tardif S, Simard M. Cognitive Stimulation Programs in Healthy Elderly: A Review. International Journal of Alzheimer's Disease. 2011;2011:1–13.