If you're looking for a wheelchair that can take you anywhere and everywhere, the GRIT-Freedom All-Terrain Wheelchair is your best bet.
It's ideal for people who love to keep active outdoors, but sometimes have trouble with mobility issues.
It's sturdy and durable, and it can handle just about any terrain you throw at it.
This post contains affiliate links. We earn a commission if you make a purchase at no extra cost to you.
ALSO CHECK: Best Lightweight Travel Wheelchair
GRIT-Freedom All-Terrain Wheelchair [Comprehensive Review]
It may be disassembled to fit into any car.
Any neighborhood bike shop can service it.
Quick-release rear wheels, seatback, and footrest for convenient storage and transportation
Tubular steel frame ready to face challenges, limitations, and any adventure
Maintain your safety: Use the seatbelt provided or attach your own.
Simple, pull-back braking mechanism with adjustable parking brakes
Experience genuine all-terrain adventure. Enjoy riding dirt, trails, snow, mud, and everything in between.
Measurements
Seat Width: 16″, 18″, and 20″ combinations are available.
Height from the floor to the seat: 21″
Chair Weight: 45 lbs.
300-pound maximum supported weight
Benefits & Drawbacks of GRIT-Freedom All-Terrain Wheelchair
| | |
| --- | --- |
| Benefits | Drawbacks |
| Extremely Portable. Can fit in the trunk of a car | Heavier than most conventional chairs |
| Easy to push so less shoulder strain. | According to some reviews, it can be unstable at fast speeds or over huge bumps |
| Easily adjustable for maximum comfort | You need good upper body and core strength |
| Can go on all types of terrain | |
| 30-day satisfaction guarantee | |
READ MORE: Best Power Wheelchair for Outdoor Use
Some Available Extra-Add Ons
1. Trail Handles
These are not standard and will raise the price of your bike somewhat. These enable an attendant to push you.
That's important whether you're using the chair indoors or outside, because you may meet terrains on the hiking route that you can't handle on your own.
2. Extra Wheels
Additional wheels may be ordered to make the chair even more flexible. The basic wheels are capable of handling almost any outdoor terrain.
If you want to use the chair in an urban setting as frequently as you do in the great outdoors, you need to invest in a set of street wheels.
3. Extra Axles
This is more of a convenience feature, handy if you intend on swapping from one type of wheel to another on a frequent basis.
Take a look at this video featuring the GRIT-Freedom All-Terrain Wheelchair.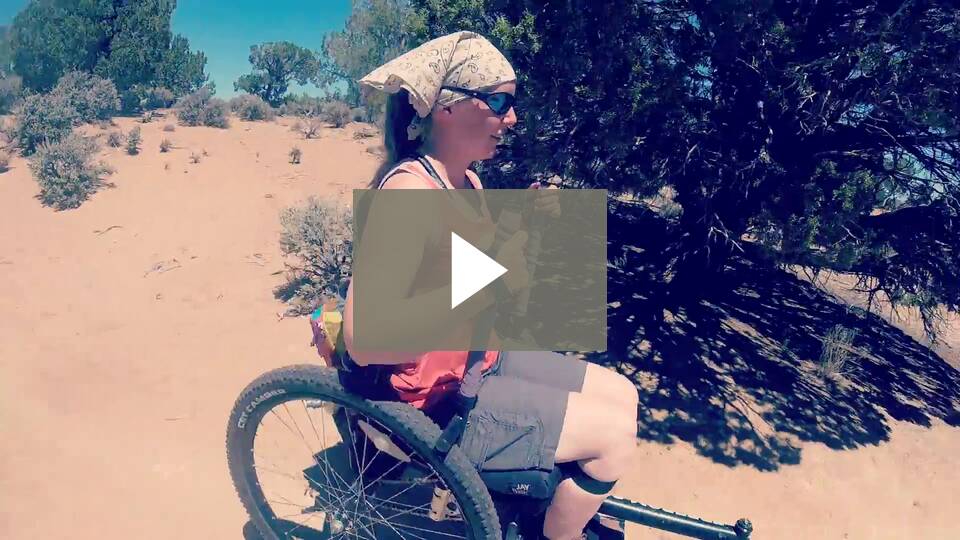 Expert Tips
If you plan on going on extremely tough terrain make sure to get Drivetrain Upgrade.
If you intend to take your Freedom chair to the beach, you should invest in a set of beach/snow tires.
What are Influencers Saying
Check out what this youtube has to say about it.
Trees are more important today than ever before. More than 10,000 products are reportedly made from trees. Through chemistry, the humble woodpile is yielding chemicals, plastics and fabrics that were beyond comprehension when an axe first felled a Texas tree.
Conclusion
GRIT-Freedom All-Terrain Wheelchair is a great option for anyone looking for an all-terrain wheelchair [1]. It is easy to use and navigate, making it perfect for outdoor use.
The GRIT-Freedom also comes with many features that make it a great choice for everyday life. If you are in the market for an all-terrain wheelchair, the GRIT-Freedom should definitely be at the top of your list.
What do you think of the GRIT-Freedom All-Terrain Wheelchair? Please share below!
Resources
1. Wheelchair – an overview | ScienceDirect Topics. www.sciencedirect.com. Accessed May 27, 2022. https://www.sciencedirect.com/topics/nursing-and-health-professions/wheelchair