Halloween is one of the best times to show off your love of Halloween and Halloween costumes. If you have a wheelchair, it can be hard to find the right outfit that is fun, comfortable, and functional.
The good news is that there are lots of great options out there! Here are some ideas for Halloween costumes for wheelchair users:
FYI, this post contains affiliate links. We may earn a small commission at no extra cost to you.
Don't have time? Here are our favorites!
ALSO CHECK: Halloween Activity Ideas for Elderly
How about a gay old time with this costume that never goes out of style?
This is an excellent choice for a costume, and it's super easy to make.
Speed down Rainbow Road with this classic video game Halloween costume.
The most iconic Disney princess ever, and now you can ride down in the princess carriage.
Superman flying over Metropolis metropolis, ready to catch some bad guys.
My personal favorite. Turn any wheelchair into the Game of Thrones Iron Throne.
Swim through the Halloween streets with this cute mermaid costume.
Wear your favorite wrestler costume and turn your wheelchair into a wrestling ring.
No products found.
3,2,1… blast off with a cool astronaut costume.
Turn your wheelchair to a sensational star wars fighter.
Couple up your batman costume with your very own batmobile.
12. Dj Booth
It's pretty simple to turn a wheelchair into a DJ booth. Plus, it's an excellent out-of-the-box idea (literally)
Professor Charles Xavier is my favorite X-man, and it's a pretty straightforward costume.
14. Ant-Man
All ant man fans assemble. How cool is this ant man costume?
Here is how to make the ant man suit.
Everybody loves a hyde and eek Halloween costume, and you can join the bandwagon even in a wheelchair.
Buzz into infinity and beyond with this spaceship as you fight off evil Emperor Zurg!
One of the most fabulous wheelchair-friendly Halloween costumes Turns your wheelchair into a fun new ride.
Time to fight Halloween's dark forces with this star wars snowspeeder.
This wheelchair cover is pretty incredible.
20. The Electric Chair
This has to be one of the most creative Halloween wheelchair costumes. You need a black and white striped outfit and a few adjustments to your mobility device.
21. Shopping Cart
A fun and easy DIY to transform your mobility device into an awesome Halloween costume.
22. Dr. Who
Dr. Who is one of the most iconic heroes in science fiction history. He's also got a great costume that can be adapted to fit your needs.
The costume comes with a Tardis (a time machine) and all the accessories to make it look like your favorite Doctor.
This costume is perfect for bringing the pirate theme to the Halloween party. You can even add some accessories to make it look like you are on a ship in the middle of a storm.
Queen of Hearts is a popular character from Alice in Wonderland [1]. The queen of hearts costume is one that many people like to wear on Halloween because it makes them feel like they are one with their favorite fairy tale character.
If you don't have time to make your costume, plenty of online costumes will give you this look for an affordable price.
If you're feeling a little creative and want to spice up your Halloween costume, why not try something different?
Minecraft Pig is a popular costume option for wheelchair users. The costume will have you looking like an adorable little porker!
This costume is easy enough for any beginner seamstress or sewer to create, so if you're looking for a cute outfit for Halloween this year, look no further!
26. Steam Train
All aboard! Turn your wheelchair into this excellent steam train.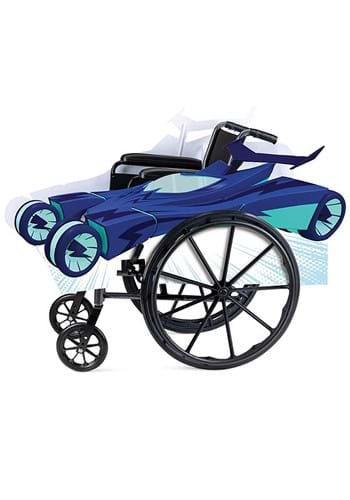 If you have a wheelchair, there are some fun and unique Halloween costumes that you can wear. The PJ masks cat car is a great choice.
The costume will make you stand out!
Check Latest Price



PJ Masks Cat Car Adaptive Wheelchair Cover — $49.99

Do not let your child feel left out this Halloween and let them dress up with this PJ Masks Cat Car Adaptive Wheelchair Cover. This amazing wheelchair cover will make them ride in style while trick or treating.
The Scooby Doo Mystery Machine is one of the most popular Halloween costumes. 
You can find many different versions of this costume online or at your local costume shop. Your choice will depend on how much time you have and how much money you want to spend.
If you want to make it yourself, there are plenty of tutorials online that show how to make your own Scooby Doo Mystery Machine costume.
The fire truck is one of the most classic Halloween costumes for wheelchair users. A classic red and white fire truck with a ladder and a bucket is a great way to make sure everyone knows what you're going as.
It's also an easy change-up from your usual costume if you want something different from everyone else.
If you're a fan of Queen poppy, then this wheelchair cover designed to look like the flower face balloon would be perfect.
What To Consider When Getting a Wheelchair Halloween Costume
If you're looking for an awesome wheelchair-friendly Halloween costume, here are some tips and suggestions:
One of the most important things to consider when getting a new wheelchair-friendly Halloween costume is that it should be comfortable and easy to move in.
Knowing what type of wheelchair one uses will help you decide on a costume design that will work best for their needs. [2]
Another thing to consider is what kind of accessories the costume requires. If it involves anything other than the outfit itself, such as shoes or gloves, these should also be included in the price.
Consider Your Budget
Costumes can get expensive, and sometimes it's hard to justify spending money on something that might not be used or worn often.
In addition, consider how much time you would spend getting ready for the party and what it will cost you in terms of time spent getting ready.
Choose a Theme
If you want something more contemporary and trendy, choose one option instead of one of those traditional costumes like a witch or other scary characters.
You can also go with something more whimsical, like a cat or dog, if you want something less intimidating than witches or vampires.
Choose Something Trendy
If you want something that people will remember at the end of the night (and maybe even years later).
You also want to think about how long the costume will last before being replaced because some outfits only have limited life spans before they start falling apart at the seams or developing holes in them.
Conclusion
We understand that you might feel a little self-conscious in your wheelchair, so we've put together a list of costumes that will make you look like the most incredible person at the party.
We've also got some ideas for ensuring your outfit is safe and comfortable, so even if you don't have a lot of mobility, you can still enjoy yourself without getting into trouble.
Which one is your favorite Halloween costume for wheelchair users? Share below!
Resources
1. Available from: 1. http://signalartscentre.ie/sigwp/wp-content/uploads/2020/06/newsletter_apr_jun_16_resized.pdf
2. Types of wheelchairs – ProQuest [Internet]. www.proquest.com. [cited 2022 Sep 27]. Available from: https://search.proquest.com/openview/16a83395cd213358ab20cd229906bfc0/1?pq-origsite=gscholar&cbl=48772